The Creature Compendium club is a club focusing on all manner of magical, mystical, mythical creatures, with monthly installments to thrill and delight. Each month a creature is selected and brought to life in yarn, then you get to learn more about that creature through its profile here. Sign ups are open all year round for this large project club, allowing you to join in and set the amount of yarn that will help you complete your project. All the colourways for 2020 were designed to flow together in a linear fashion, For 2021 we focused on colour work projects and whilst skeins across the year should work well together, each Quarter will focus specifically on complimentatry colourways.
2023 will be quarterly focused with different areas of the world featureing 3 different cryptids or folklore creatures dyed as complementing skeins for each other. All the skeins will be different across the year and will use many varied style of dyeing. These yarn can be used as one big blanket club or as smaller 3 colourway set projects.
Here is the Sign up for the 2023 Creature Compendium
Each quarter form 2020 focused on a different Element, Q1 - Air, Q2 - Water, Q3 - Earth, Q4 - Fire
2021 focused on Cryptids from different areas of the world by quarter.
2022 was a deep dive into two regions of the world and exploring and learning about their creatures of lore over 6 months each.
Shadow Stealer, Juju Man, Whistle for it Loudly, Kill it if you can...
Nkala are Crab like creatures with 2 hippo heads, one at the front and one at the back of their bodies. They are supposedly used as a familiar for vodoo practicioners to steal the shadows of their victims thereby killing them.
The Book of Creatures has an entry about the Nkala crab, using this and various other sources we took inspiration from hippos and the Potamonautes spinosus crab.
Ignore the bells, stay locked inside, Cause an arm won't do, they'll take your hide..
The Biloko, or in singular Eloko, are creatures of a diminutive stature covered in mosses and grasses which grows from their bodies and clothed in leaves, believed to be angry ancestral spirits haunting the forests of the Democratic Republic of the Congo. They are viscious to those who invade their territory and have a taste for humans.
The Book of Creatures has an example of one of the folklore tales they feature in.
When lighting strikes with all its might, From Lesa's lake they flow, But if it snaps and there's no way back, with a bleat and crack you'll know...
The word Akampeshimpeshi means lightning in the language of the Lamba people of Zambia. The word is also connected to the half goat (headed) and half crocodile (tailed) creatures that come down on a cobweb as lighting travels, They then travel back upward on this cobwed though if it breaks they are loud and angry whilst grounded.
Head over to the Book of Creatures to read more about Akampeshimpeshi
For 2021's Creature Compendium we focused on contrasting colours for colourwork projects quarter by quarter. With a brief quarterly hop into different regions.
At the front from left to right we have
Gert Dog (Black Dog, not all of which are menacing)
Dobhar Chu
Winged Serpents of Glamorgan
in Hardy Dk (merino nylon) and on top the same colours in Kaguya 4ply (Bamboo)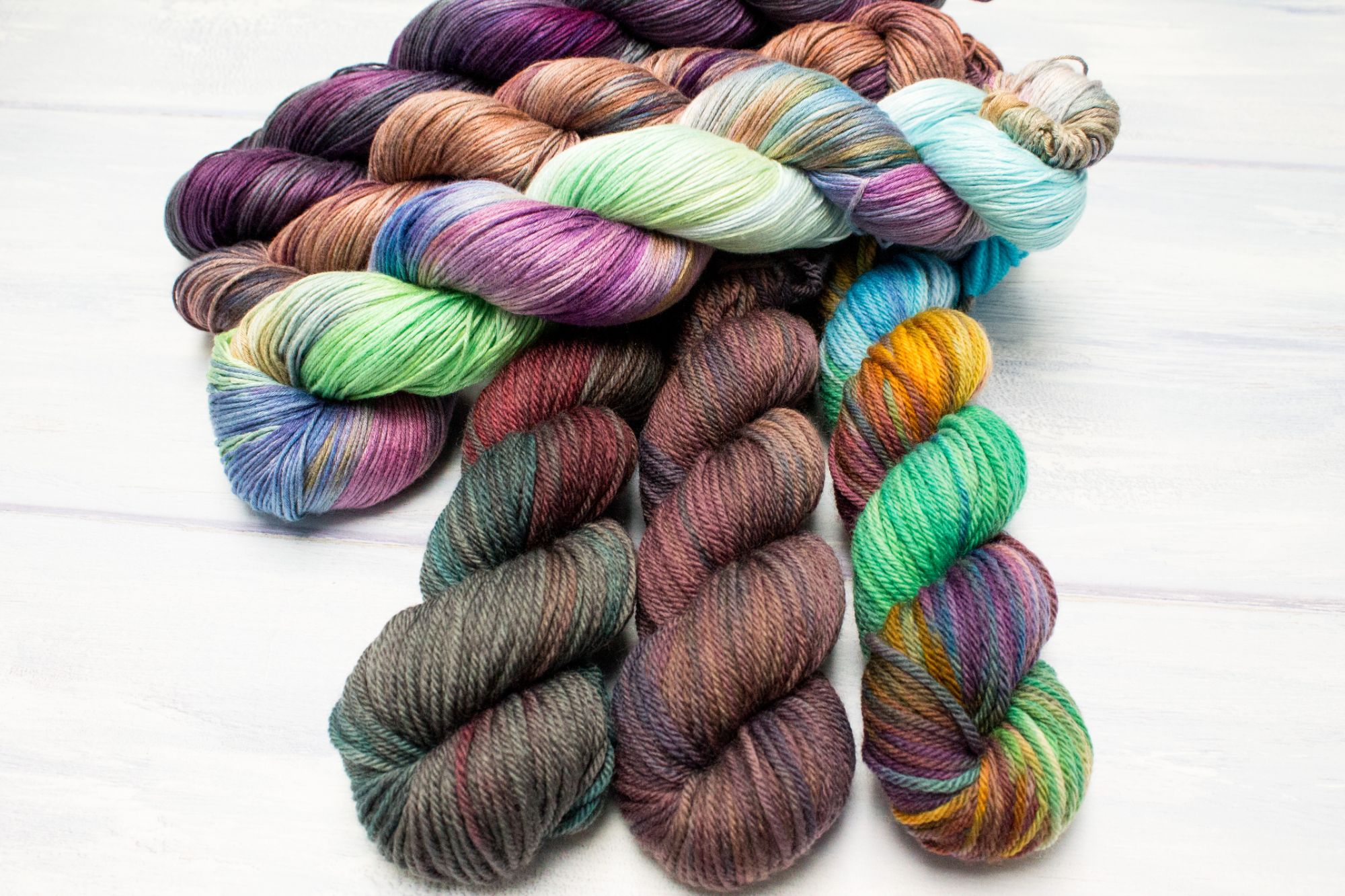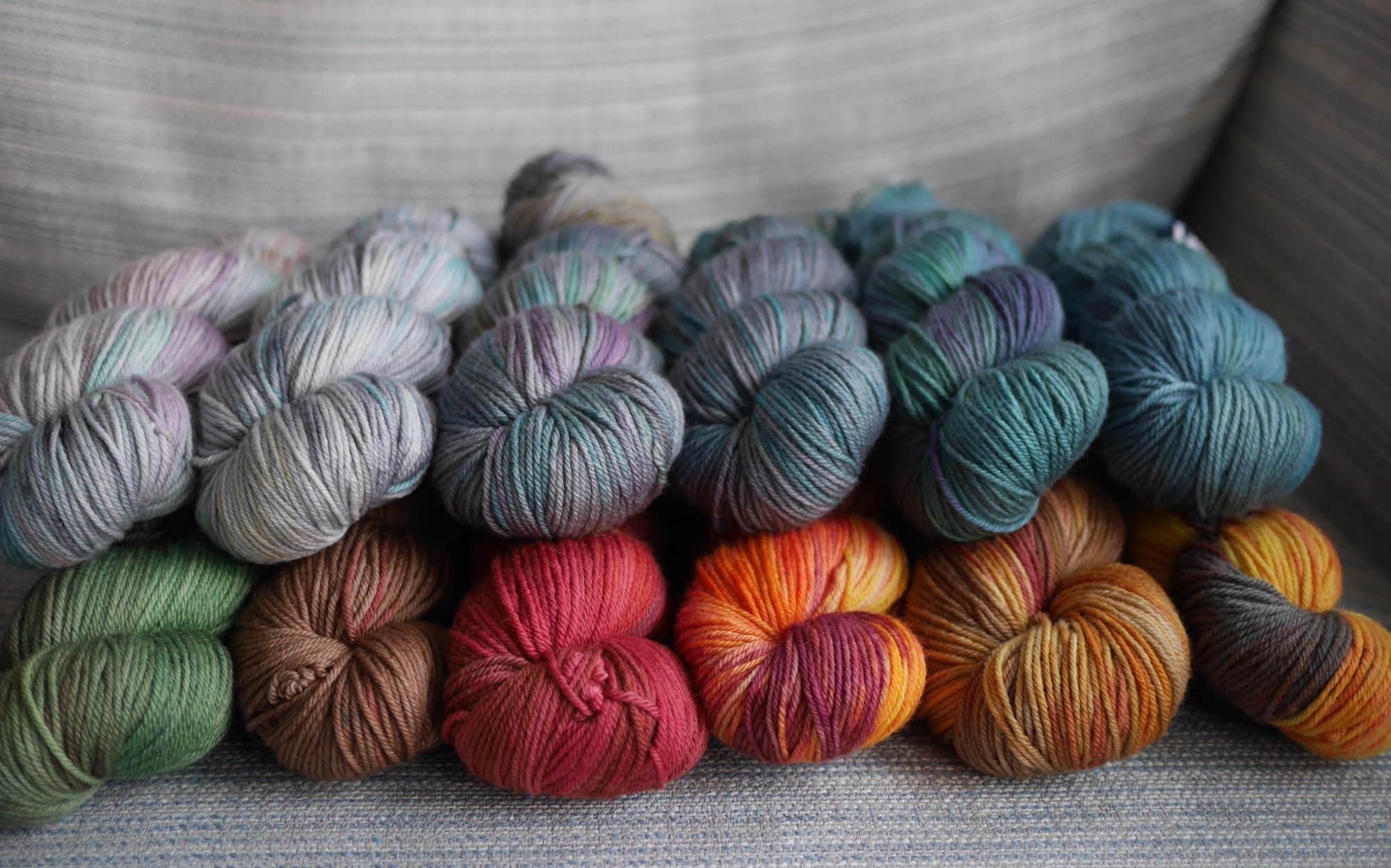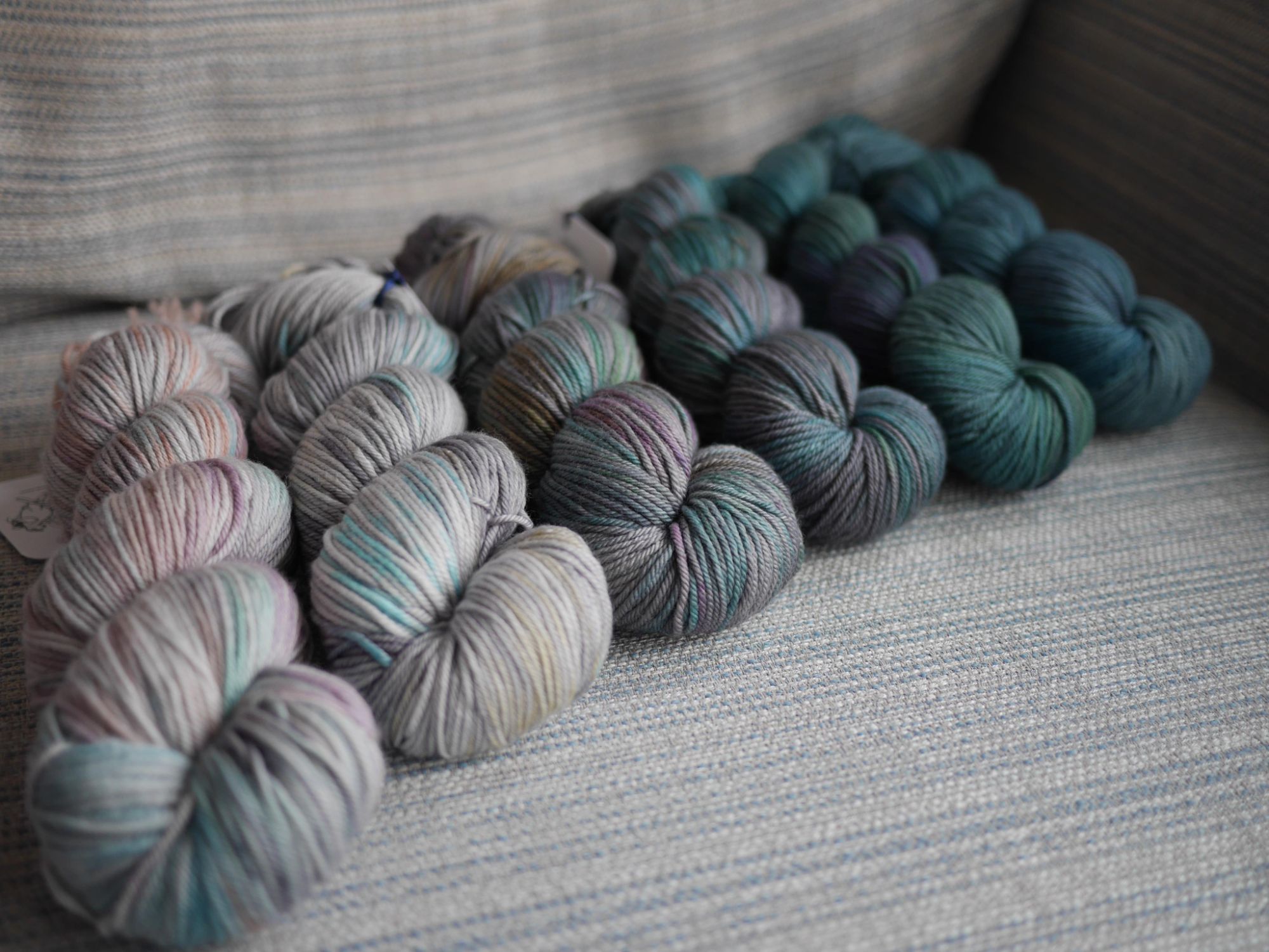 2020 From Left to Right Above
<- Air
Peryton, Raiju, Rainbow wyvern
<- Water
Kelpie, Kraken, Selkie
Earth ->
Goblin, Chupacabra, Mongolian Deathworm
Fire ->
Phoenix, Ifrit, Aitvaras
Credit & Copyright TashKnits (3 images)