Swing Me Right Round Tips & Techniques
Posted on
-------Taken from the Third Vault on the Left Blog -------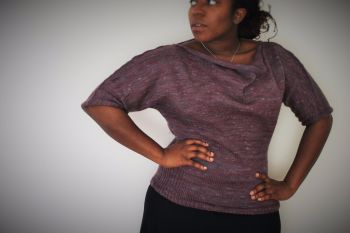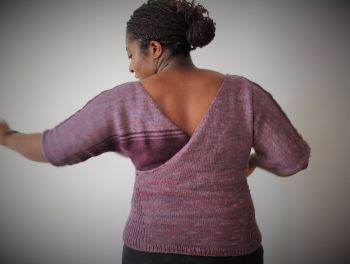 This is the first part of the knitting Swing Me Right Round series, with tips and tricks on how to use the pattern, knitting help and general advice to follow.
I honestly cannot stress the importance of swatching it enough, especially if you want to knit the Swing Me Right Round Jumper. This beautiful jumper is requires essential swatching as the idea is not to knit to a standard size but based on your own measurements, because of this there are some calculations involved, but don't worry there is a link in the pattern to a handy spreadsheet that enables you to input your gauge ( over a 4in square), your measurements and it does the calculations for you to tell you how many stitches to cast on for either construction option and how many stitches you should have at the important sections
A quick note on choosing yarn - whichever yarn you choose to use for the pattern, 4ply, Sport or DK weight yarn, pick a yarn with a high percentage of wool for structure and warmth. Blends can be nice especially if you would like to add drape when choosing a thicker yarn. The thinner yarn choices will have more drape at the pattern gauge.
Lets first start with Swatching
As a knitter something you learn over time is what type of knitter you are/how you knit. I know I knit quite tightly which hasn't changed a lot, though my tensioning is certainly more consistent now as opposed to when I started out. So with an understanding of what type of knitter you are pick a size of needle you think will let you achieve gauge with the yarn you've chosen. If you haven't quite figured out what kind of knitter you are yet, that's fine too, just start with the recommended needle size for the pattern. Which in this case is 3.5mm. The pattern gauge to achieve is 21 stitches by 32.5 rows per 4"/ 10 cm in Stockinette stitch.
This colourway is gorgeous layered and gradient turquoise and greens, plus notoriously hard to photograph!
I've chosen to knit myself a second Swing Me Right Round, this time in a fingering weight yarn. My Yarn is Third Vault Yarns Companion 4ply in the Emerald City Colourway, available as dyed to order (please note the yarn is a deeper green with teal than can be seen in the photos).
Knit your swatch larger than the recommended amount of stitches, to allow for easier pinning and measuring, always measure from the inside of your swatch, as the consistency of your stitches will likely vary when closer to the edge of the swatch.
I've knit mine to 26 stitches by 41 rows, granted I did switch needle sizes in the middle. I started out with the 3.5mm needles but after 21 rows I realised that my tight knitting was getting me nowhere near gauge and I went up a size to 3.75mm needles which kept me happy (I like a tighter look in my knitting) whilst also taking me closer to gauge. Though still out by 3 stitches, which is fine as I can just put my actual gauge into the spreadsheet for my calculations.
Technically it is better to cut your yarn and once you've cast off your swatch so that you can then wash and/or block the swatch the way you would treat your garment. However I'm not a fan of cutting my yarn, unless we are steeking and that is a whole different ball game! As I will be steam blocking the garment that's what I've done to my swatch.
Taking Measurements and Using the Spreadsheet

A link to the spreadsheet is available on the first page of the pattern.
The schematic above shows where each part of the jumper should lie on the body. Use a flexible tape measure to get your measurements. You can do this yourself or ask someone else to help.
Adapted from one of the great croquis produced by www.dctdesigns.com
Measurements
A - This is taken from where you would like the lowest point of the jumper to hit, or your hips.
B - This is taken from your natural waist, the point where some people go inwards between their hips and bust.
C - This is taken across your bust.
D - This will be the distance between the bottom of your Jumper and your Natural Waist
E - This measurement is the distance from your Natural Waist to your shoulder.
These measurements should be put into the spreadsheet, I won't show you my exact measurements because I'm shy :P
The purple oval shows where to input your measurements
The green ovals show your calculation output, based on your gauge which is put into the sheet under the schematic and your measurements.
Depending on which construction method you choose, you will either use the Stitches at Natural Waist number (Centre Out) - which if you choose to do the top part first will be halved, or Stitches at Bottom number (Bottom Up). This will be your number of cast on stitches.
Casting on
Centre Out - This Cast on will be a provisional cast on
I use the long tail provisional method this is a great video for the provisional method I use by PostStitch on Youtube. This link is included in the pattern.
Bottom Up - I recommend a Tubular Cast on because I love the way it looks
Tubular cast on tutorial wonderfully explained by Ysolda
Long Tail cast on tutorial explained in pictures, alternatively follow the provisional method video with only one yarn/ no waste yarn. (using two different balls of your yarn, does make it easier, as it saves you having to judge the length of tail you need), when finished casting on, cut the yarn that goes over your thumb (what would be the waste yarn).
Pattern Chart
The pattern chart direction differs depending on which construction option you pick, with Centre Out you will be knitting the pattern downwards and likely doing some increases to your hips. The measurements above show that I need to do 2 increases as I knit downwards. For best effect I will do all but two of the pattern changes shown in the chart as switch rows (where I neither increase or decrease into the pattern) where you use the stockinette stitches either side of the pattern and bring them into the pattern. The increases I will do at pattern change 1 and 4 to space it out but also to make sure that the slope of the garment is big enough before it gets too far down to my hips. If you have more increases you can space them out accordingly.
For bottom up you are likely to be decreasing instead, try to space these out evenly so do them at every other pattern row change, if you have more or less than suggested in the pattern then space them out accordingly with more decreases as you get closer to the natural waist.
Happy Knitting!