TOO much EXCITEMENT, might EXPLODE!
Posted on
Today is an exciting day for me. Not only do I start a weaving course (which I've been looking forward to for a while), Knitting Magazine February 2018 has been published!
I've been looking forward to this issue since early last year when the Editor the wonderful Christine Boggis contacted me to say she'd like to feature my yarn in an issue as she'd been seeing it in a few places and was really interested in the concept. We sat down to chat in June and talked about how I design ethos and my approach to knitting as a hobby and now a business. Which you can read all about in the Vaulting into Colour profile.
Just a couple of clarifications, with the Goblet of Fandom you now get 5 minis instead of 4 with the option of getting a different 100g skein instead or both, so each club box contains a minimum of 200g of yarn :D. Also the Alchemist's Tote our project bag club, whilst it does and will feature project bags by the Little Grey Girl (which debuted as an optional extra to the Sherlock club last quarter) in Q3 of this year, we'll also be featuring other project bag makes like the wonderful Sam Boggia of Knitrundig this Quarter. It will feature their signature style of bag for that quarter in themed fabric.
On top of all the excitement with the interview and profile, Christine asked to use some of my yarn for a design and after learning about my approach to design she wanted to feature one of my patterns also. Whilst I came up with a couple of design ideas, the favourite for this issue was the Time Vortex hat, which I'm pretty proud to say is my first not self published pattern. It's slightly different seeing one of your patterns in print!
You should buy the magazine for the patterns, which can be found online through knitting magazine's website Or in most WH Smiths or some supermarkets and newsagents. For a list of stockists visit http://seymour.magzene.com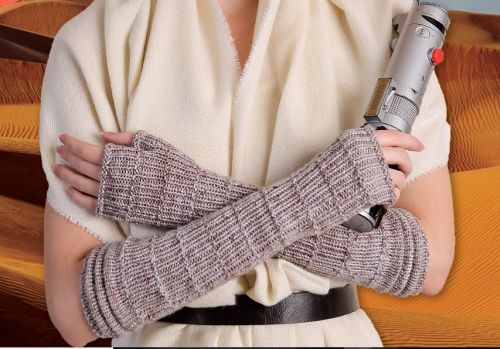 You get to see a sneak peek at the designs now though with the Rey Gloves (above) by Christine Boggis featuring "And you'll drop your weapon" in Caroline dk which is available to purchase in the shop and my pattern Time Vortex hat which features a good dyer friend's yarn, Emily from Rhapsodye yarns.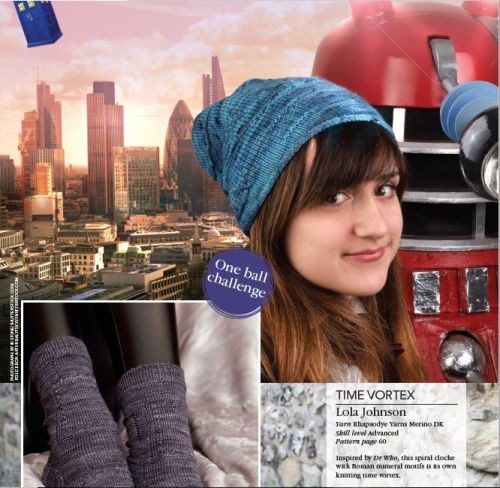 There are some fantastic patterns in this issue, not just mine ;p so go pick it up and tell me how many references you can spot!
Credit for these images goes to Knitting magazine (February 2018, issue 177) Copyright GMC Publications. I sadly couldn't include the full pages as the files were too large so to see the full pages patterns and all the articles in all their glory don't forget to buy the magazine!